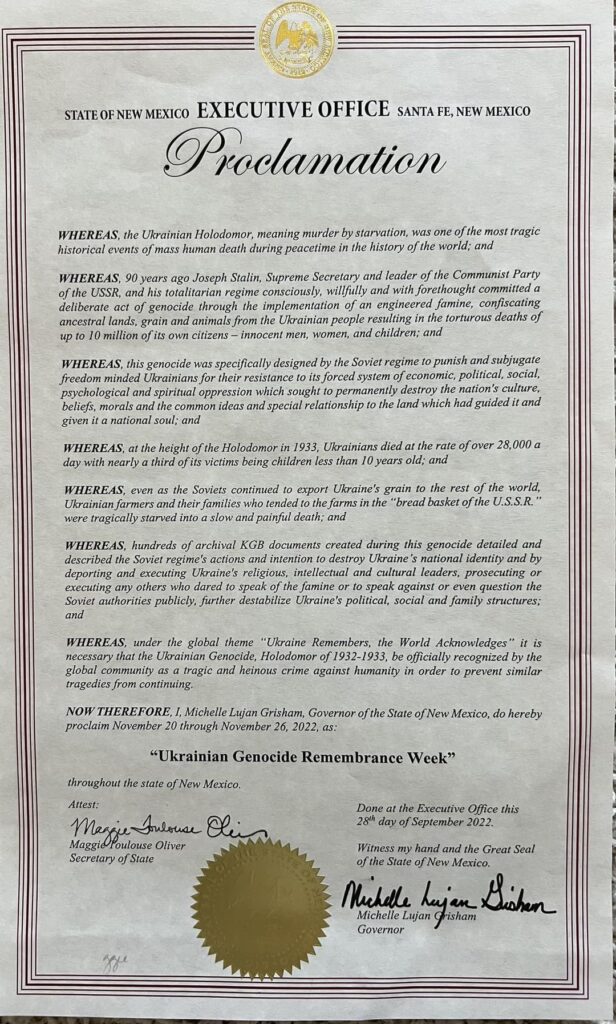 New Mexico's Governor Michelle Lujan Grisham proclaimed November 20, 2022 through November 26, 2022 "Ukrainian Genocide Remembrance Week".
The Ukrainian Holodomor (1932-33) was one of the most tragic events in the history of the world. In acknowledgement of its scale, the famine of 1932–33 is often called the Holodomor, a term derived from the Ukrainian words for hunger (holod) and extermination (mor).
Millions died a slow and painful death during peacetime in Joseph Stalin's man-made famine/genocide while the Soviets continued exporting Ukraine's grain to the rest of the world.
The Soviets and the Russians tried for many decades to conceal this atrocity from the world.
Today, the whole world watches in horror as Putin's war/genocide against Ukraine devastates Ukraine once again trying to deny them their God given and sovereign Right to Life as a free people.
Stephan J. Welhasch
Press Secretary, UAofNM